Hantera inköpsorganisationens pipeline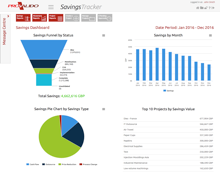 Managing that other funnel
The sales funnel. It's familiar to all of us, even those who have never worked in sales. The principle is easy to understand. Sales opportunities start at the top of the funnel. Some of these opportunities fall out as the funnel narrows, until the actual sales drop from the bottom of the funnel. The funnel can also be referred to as a pipeline, but the principle is the same. It's impossible to imagine a sales function not actively managing their sales pipeline in some way.
Yet what about procurement? There are direct comparisons with sales. The "opportunities" tracked and measured within a sales function are potential benefits to the organisation, usually in the form of increased revenue. These opportunities have a value and they have a likelihood of success that increases the further through the funnel they go. Each opportunity is managed by a person or a team of people, potentially going through a series of review points where approvals are made, and the benefits delivered to the business are forecasted and reported.
In procurement, our "opportunities" take lots of different forms from simple cost reduction, to demand reduction, to other forms of quantifiable value. These opportunities also have an increased likelihood of success as we progress through them. They are also managed by a person or team and go through a series of review points, and the benefits are forecasted and reported.
The parallel is striking, and yet how many procurement functions actively manage their pipeline? If it's unthinkable for a sales department not to have full control and visibility of their pipeline, why should it be any different for a professional procurement department?
Just as sales teams are increasingly using cloud based solutions to manage their pipeline (62% of all CRM software will be cloud based by 2018), procurement teams should be doing the same. Managing your opportunity pipeline in such a system brings numerous benefits. It provides increased efficiency and visibility to cost reduction projects and also helps to embed a robust process, with the appropriate workflow and approval controls ensuring that opportunities are handled with a common approach, right from idea through to implementation. Ultimately it increases the credibility of the procurement function and the benefits being delivered.
Provalido's Savings Tracker is designed to do just this. With decades of procurement experience going into the design our solution enables organisations to manage their cost reduction projects through their full lifecycle. It's easy to use and also flexible so it's fully compatible with your sourcing process, savings definitions etc.
Paul Gurr, Provalido
paul.gurr@provalido.com